Legal Analysis of Jaime King's High Conflict Divorce with Kyle Newman
This page is dedicated to an in depth legal analysis of Jaime King's divorce
Jaime King's divorce is high conflict and has layers of complex legal issues
The initial math is simple. Take divorce and add children, allegations of domestic violence and substance abuse, and you have a high conflict case. The math gets complicated when you include celebrity status.
This is about Jaime King's divorce with Kyle Newman. It has high conflict written all over it.
We will update this page regularly so check back often.
Here are a few things to keep in mind before you dive in.
An allegation by one spouse against the other is not proof of anything. Just because Jaime or Kyle make allegations against each other does not mean what one of them wrote or said is true.
We do not offer any opinion as to factual accuracy of any allegation.
This is an objective, legal analysis of the situation.
Our firm does not represent any parties or witnesses. This page is dedicated exclusively to a legal analysis of Jaime King's and Kyle Newman's divorce so others better understand how the family law process works in complex or high conflict divorces.
We redacted from the document images below the children's names and dates of birth, and each lawyer's information. We also placed arrows and comments on some of the documents to point to the areas we discuss in this article.
If you are a journalist or other member of the media, and you want to quote or summarize anything we wrote here, please give proper attribution.
What makes this page on Jaime King's divorce different?
If you are looking for sensationalist nonsense, this is not the place for that.
We do not quote publicists or spokespersons. There is no spin or fluff.
This is the real thing - what Jaime King and Kyle Newman allege in the divorce case, the evidence in support of their allegations and the court's rulings.
Ready?

Jaime King continues her domestic violence action to a new date and Kyle Newman files a request for order
There are two new court dates.
Jaime King's domestic violence restraining order action is continue to June 29, 2020.
Kyle Newman filed a request for order set on June 4, 2020. The hearing is September 9, 2020. It deals with custody and financial issues.
We are in the process of obtaining these records.
It appears some of the flurry of activity in this case slowed down for now.
There are now two separate case numbers.
The domestic violence restraining order case is case number 20STRO02552.
The divorce case she initiated is case number 20STFL04184.
These two cases need to get consolidated.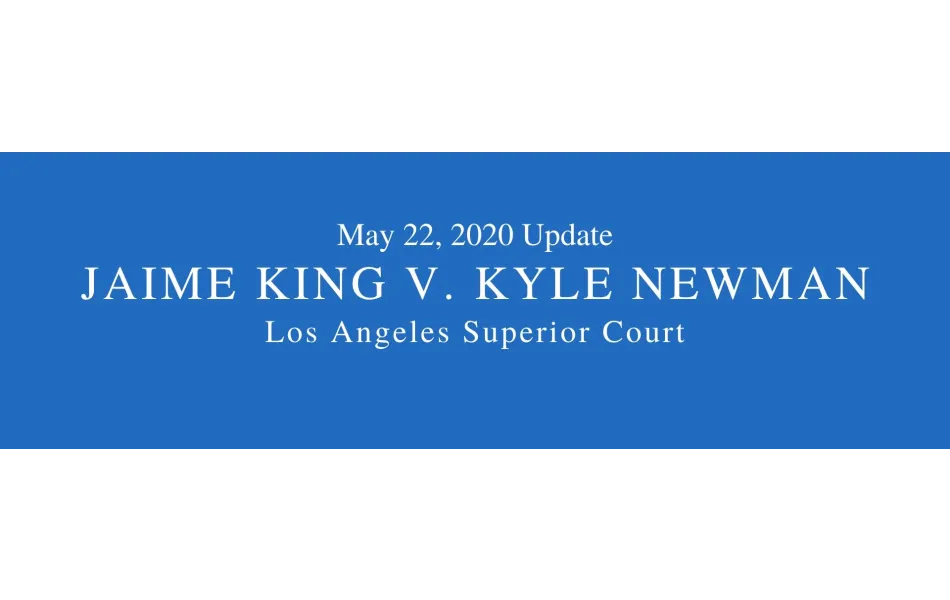 Jaime King and Kyle Newman file dueling emergency applications
Jaime King filed her second emergency (called "ex parte") application on May 22. She filed the first one on May 18.
Two emergency applications in four days is unusual, especially when the court denied the first one.
We believe Jaime King brought this second one because the court denied the first one, in part, due to lack of notice to Kyle. On the second one, she gave notice to Kyle.
Jaime King's second emergency request
Jaime King's second emergency application appears more detailed. We do not yet have the documents but the Los Angeles Superior Court website shows Jaime's emergency application included declarations from four separate individuals and Jaime's attorney.
Kyle Newman filed his response to Jaime's second emergency request.
On Jaime's request, the court ruled as follows:
The court has read and considered the moving papers and Responsive Declaration in chambers, out of the presence of the Court Reporter. Petitioner's request is denied. Grounds under Family Code Section 3064 is not established.
That is the court telling Jaime and her lawyer they did not show there was an immediate harm to the children.
Kyle Newman's first emergency request
Kyle filed his own emergency application on May 22. We do not yet have the paperwork on it.
On Kyle's request, the court ruled as follows. We removed the children's names and dates of birth from the quoted order below.
Until further order, the parties shall share joint legal custody of the minor children [named and dates of birth redacted]. Issue of physical custody will be resolved after a hearing. In all other respects, Respondent's ex parte request is denied.
The court awarded joint legal custody which means Jaime and Kyle must confer with each other regarding most parenting decisions. These are especially important regarding health, education, and safety.
The court denied everything else and told Kyle and his lawyer the court will not look at physical custody (parenting time) until the next court date.
As we explain below, the next court date is June 8, 2020. This is the return hearing on Jaime's domestic violence restraining order action.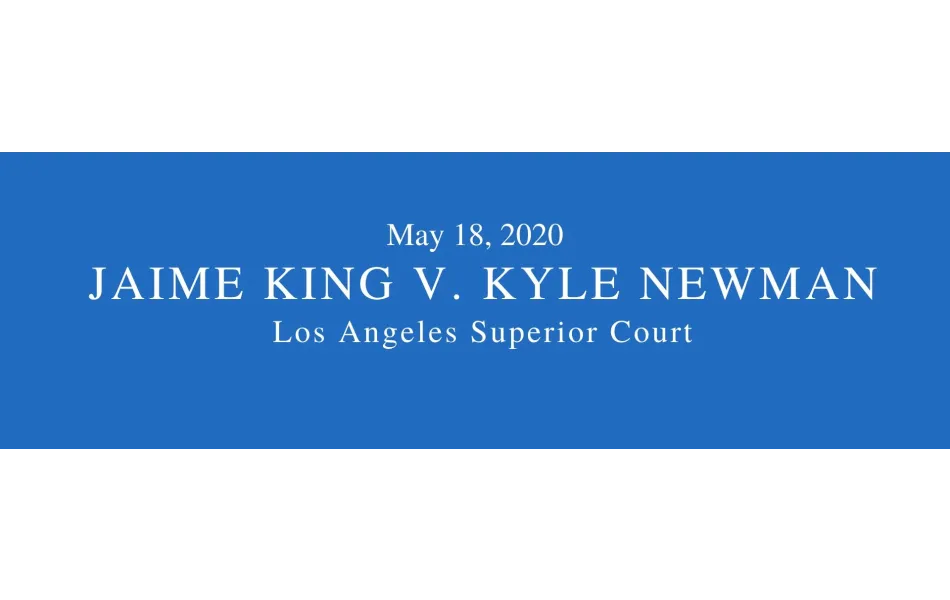 On May 18, 2020, Jaime King filed for divorce in Los Angeles

On May 18, 2020, Jaime King filed for divorce against her husband, Kyle Newman. The Los Angeles Superior Court case number is 20STFL04184.
Who is Jaime King?
Jaime King is an American actor (the word "actress" is now frowned upon) and model. She appeared in the films Pearl Harbor (2001), Bulletproof Monk (2003), Sin City (2005) and more. She also acted in television series.
Who is Kyle Newman?
Kyle Newman is an American filmmaker and author.
Jaime King's divorce petition
Statistical information in Jaime King's divorce petition
Jaime King checked off her date of marriage as November 23, 2007 and her date of separation as "TBD."
Why TBD? Jaime probably did not want to commit to a specific date of separation yet.
That is common. What is uncommon is her petition lists "12 years" without any months as the length of her marriage.
If Jaime is going to put TBD as her date of separation, then the number of years and months should also be TBD.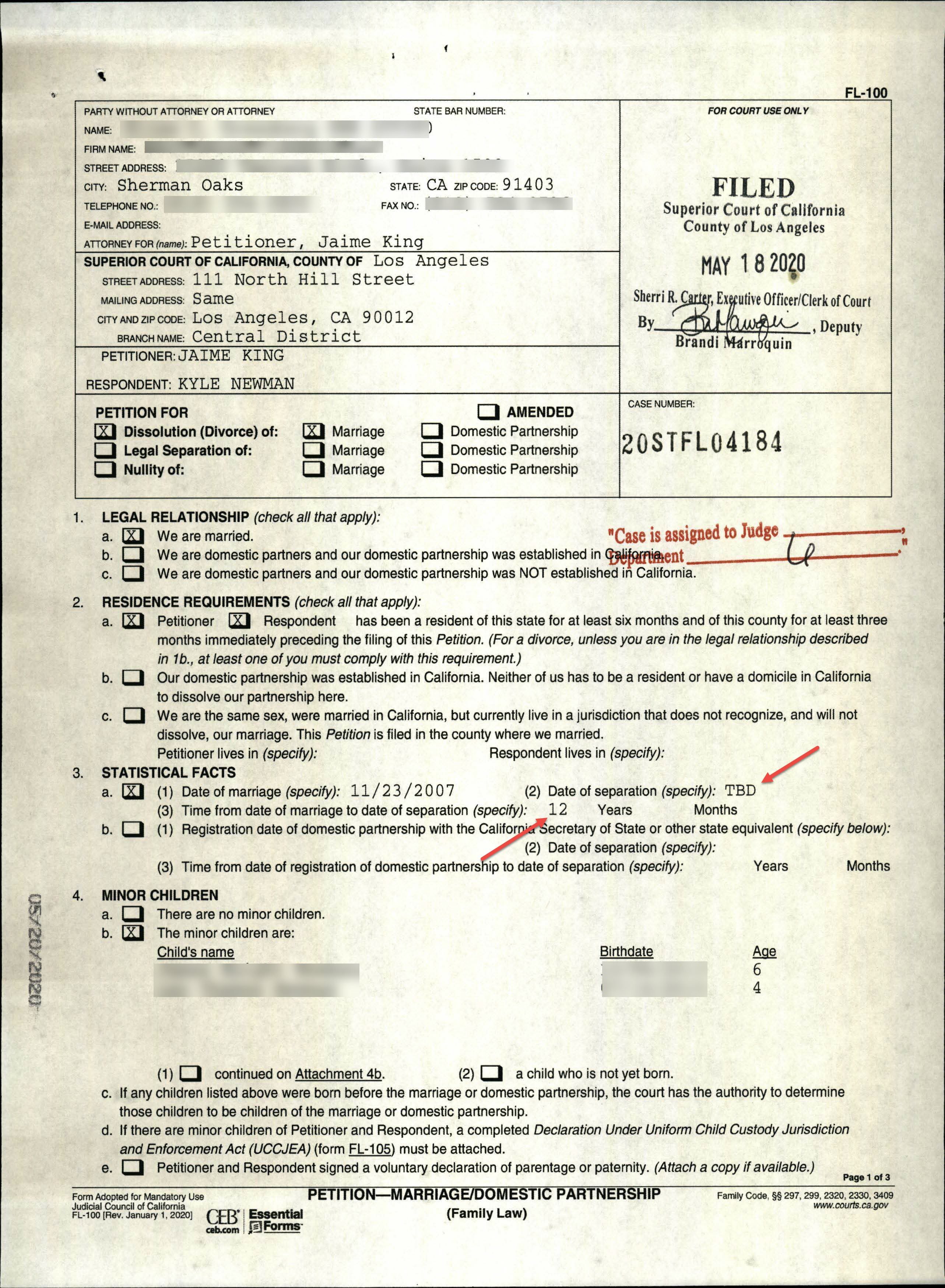 Jaime's marriage is likely a "long term" marriage
Unless Jaime wins an argument that her date of separation is before November 23, 2017, her marriage will likely be a long-term marriage. A long-term marriage in California means a marriage that is 10 years or longer.
A long-term marriage carries with it a potential for a longer or even an indefinite spousal support order, although that varies greatly from one case to another.
Jaime King's and Kyle Newman's minor children
Jaime lists two minor children, both boys, age 6 and 4.
Jaime checks off legal and physical custody of the children to her as "petitioner" but also checks off "joint." That does not make sense. It is one or the other, not both.
If Jaime intended to ask for sole custody (which is the only reason to check off the "petitioner" box), then there is no reason to check off the "joint" box. You cannot have sole and joint custody at the same time.
Jaime does not list any specific parenting time in her divorce petition and does not attach any of the optional forms. That is common when a parent does not yet know what to request.
It is not common in our experience when a parent intends to go to court immediately and ask for monitored visitation to the other parent, which is what Jaime did in her divorce. More on this below.
Jaime King's request for child support and spousal support
Child support does not require any boxes checked off. When a spouse files a divorce petition, the pre-printed form tells the petitioner the court may order child support.
Jaime did however check off the boxes in her divorce petition that she wants her husband Kyle Newman to pay her spousal support (also called alimony) and she asked the court to terminate its power (legal word is jurisdiction) to terminate its ability to pay Kyle Newman spousal support. These are common requests.
Jaime King's separate and community property requests in her divorce petition
Jaime took the more common approach to identifying (or not identifying) separate and community property in her divorce petition. In short, she wrote she does not know the "true nature and extent" of what is community property and what is separate.
Lawyers and their clients sometimes do not want to make commitments this early so they write generic language like this.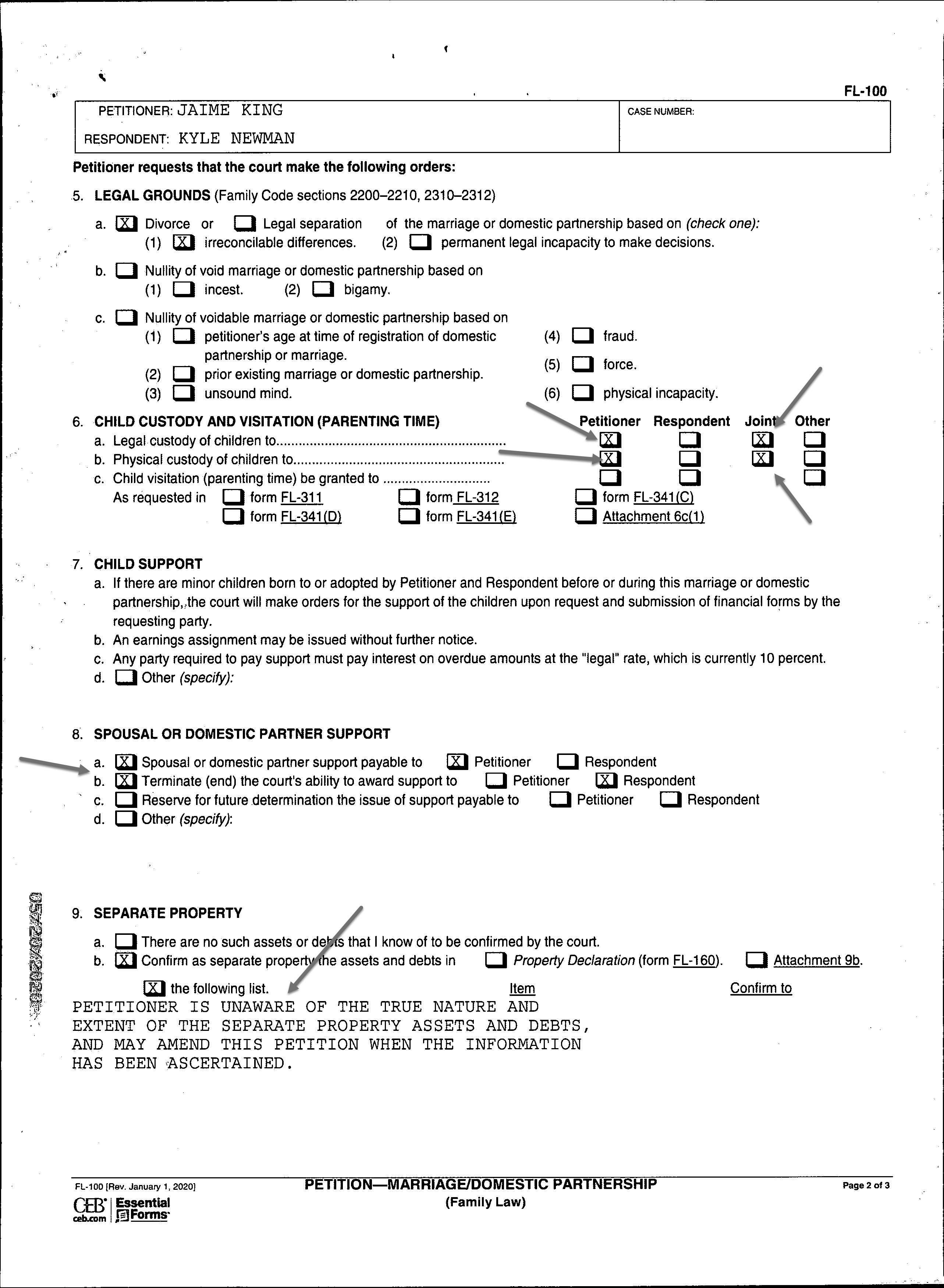 Jaime King asks in her divorce petition she and Kyle Newman pay their own attorney's fees
Jaime does not request in her divorce petition attorney's fees against Kyle Newman. This stood out to us.
It may be Jaime believes her net worth and/or income is far greater than her husband Kyle and the chances of getting attorney's fees against him based on her "need" for fees are unlikely.
I doubt it is because she thought this divorce was going to be a smooth and amicable ride, given everything she alleges.
In our opinion what Jaime did here is not the best practice.
There is no harm in requesting attorney's fees in the divorce petition. Just because a party to a divorce asks for it does not mean you have to seek it later.
Could Kyle's attorney argue if Jaime seeks fees at some point in the case that she does not have the right to do because she did not ask for it in her petition? Perhaps he may.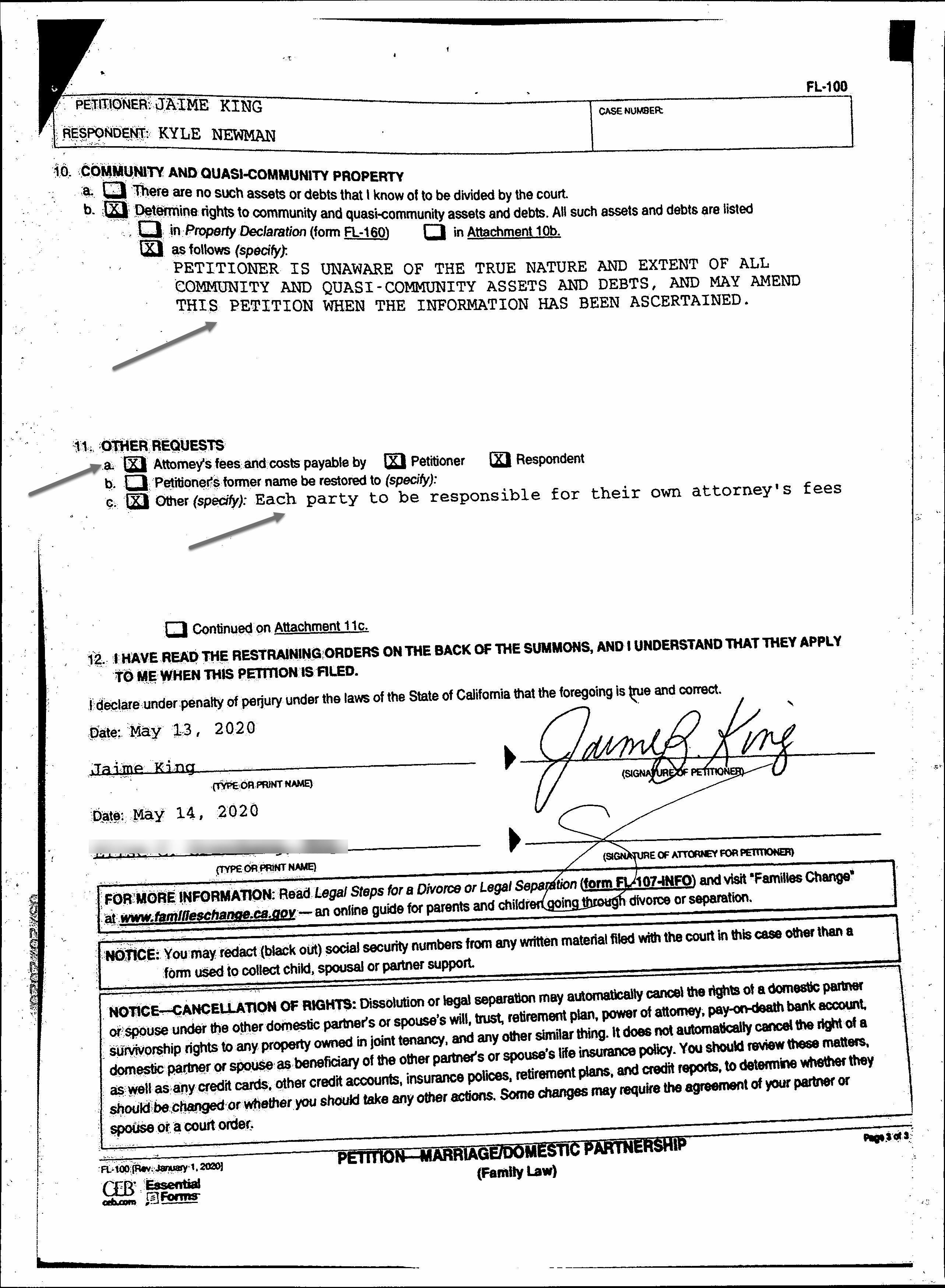 Kyle Newman's response to Jaime King's divorce petition
As of the date we write this, Kyle has not yet filed his response to the divorce petition. When he does, we will update this article.
Jaime King's emergency application for child custody orders
Jaime King sought emergency (called ex parte) child custody orders from the court. She filed the emergency request as part of her request for order on May 18, 2020.
Jaime asked the court for sole legal and sole physical custody (this time without contradicting it with a joint custody request) of the children.
Jaime asked the court to order Kyle to have professionally monitored visitation by "an agreed upon third party or professional monitor." She asked Kyle pay for the monitor.
Jaime also requested the following:
"3. Once the minors return to California, the minor children shall not be removed from the State of California absent further Order of the Court or written agreement signed by the parties;




4. Should Respondent not relinquish the minor children, that pursuant to Family Code §§ 3130 through 3134.5, the District Attorney of Los Angeles County is authorized and directed to conduct an investigation and to take all actions necessary to locate Respondent and the minor children and to procure compliance with the custody order in the above matter by taking temporary custody of the minor children identified as [children's names removed] and turning them over to Petitioner and serving Respondent with a copy of the Request For Order set for hearing in Department ____ of the above entitled Court located at 111 North Hill Street, Los Angeles, California 90012 on _______ (date), pursuant to Family Code§ 3130, et seq.




5. District Attorney Investigator(s) may contact the Court ex parte with notice to the Party requesting this order concerning any fact the Investigator believes would be material to the welfare or safety of the child(ren) as related to the enforcement of this order."
We did not see the actual declaration Jaime allegedly filed nor the points and authorities her lawyer referenced in the ex parte forms (FL-300 form). Maybe they filed it and the court did not image it yet.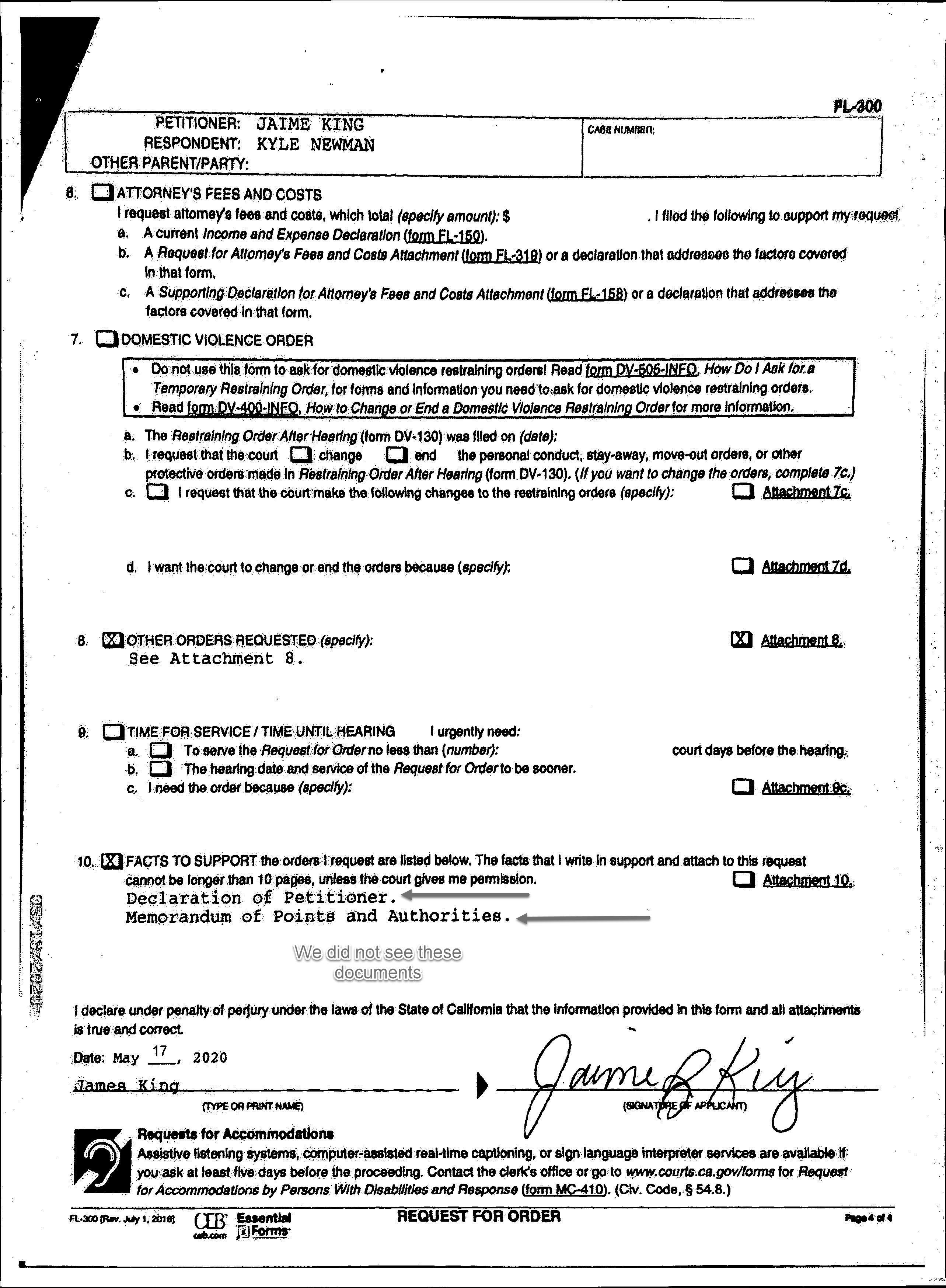 What we do know is the Court denied Jaime's emergency child custody request "without prejudice."
That means the court does not foreclose Jaime to come back and try again. The court also noted Jaime's lawyer did not give Kyle notice of the emergency request.
Jaime King filed a separate domestic violence restraining order against Kyle
Two ingredients for a high conflict divorce case are children and serious domestic violence allegations. Jaime King's divorce has both.
Jaime makes serious allegations against Kyle. Summed up, she makes allegations of serious mental and emotional abuse and surveillance of her without her knowledge or consent.
We remind you just because a spouse makes an allegation in a declaration doe not men the allegation is true.
Her declaration in the domestic violence restraining order is ten pages.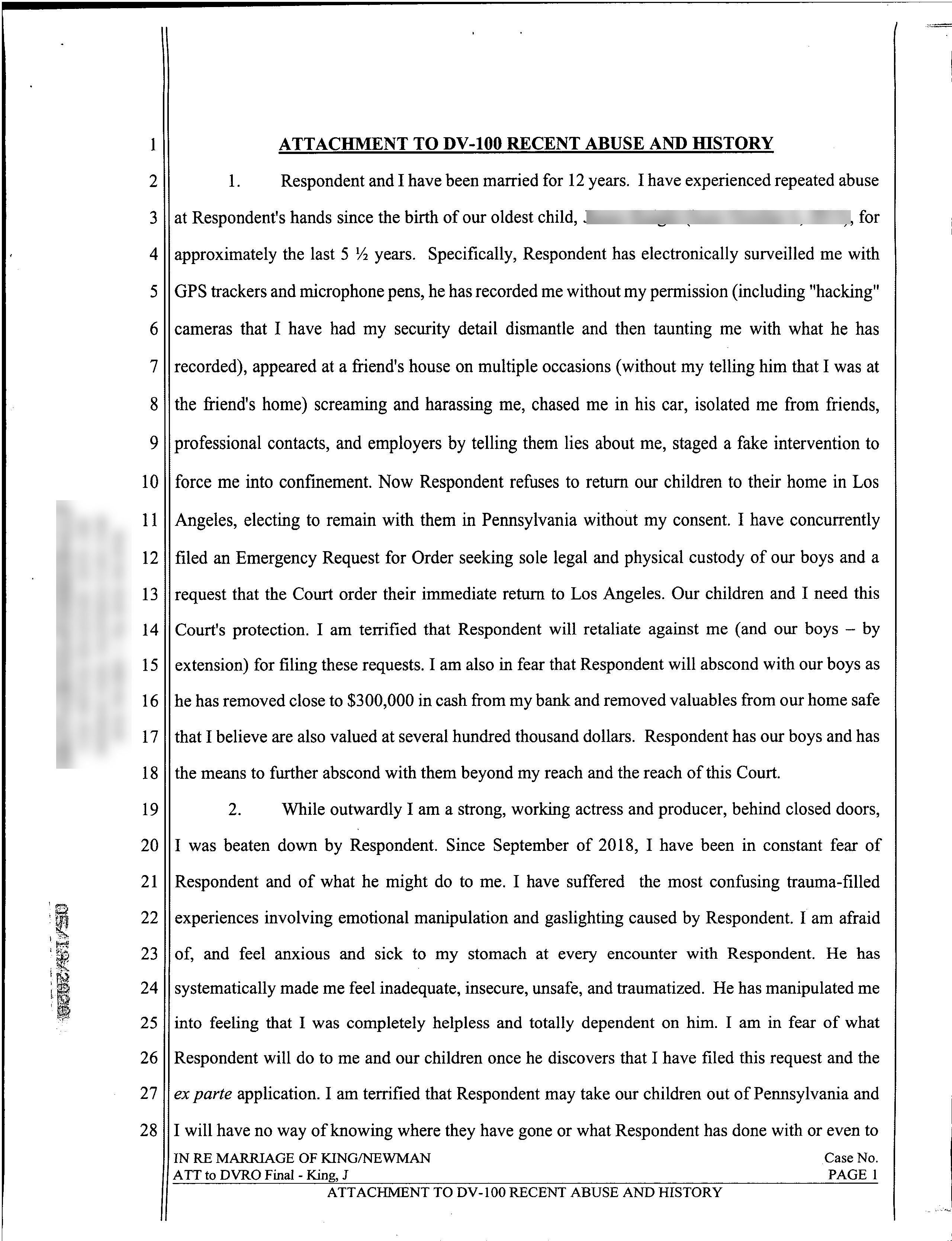 This page one starts with a summary of Jaime's allegations against Kyle. It summarizes her allegations of:
Surveillance,
Emotional and mental abuse,
Misstatements about her alleged substance abuse issues and what she calls the "fake intervention" that followed,
Keeping the children from her, and
Withdrawing significant money from her account and removing valuables, and more.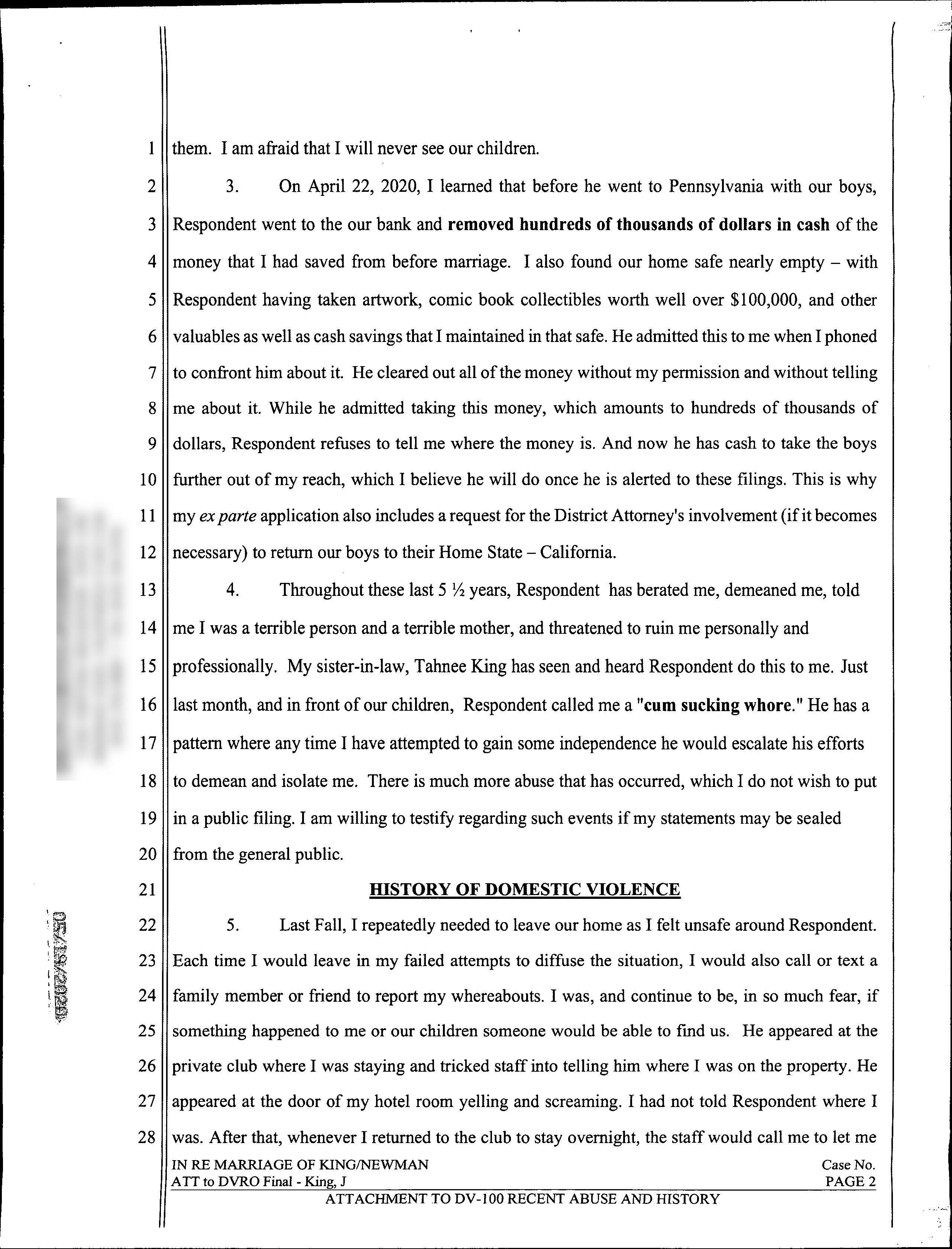 This continues her summary through paragraph four. Note she mentions her sister-in-law. What she wrote makes Tahnee a witness to this case.
It will be interesting to see if Tahnee testifies at the upcoming June 8 domestic violence restraining order hearing or a continuance of it.
Her statement there is "much more abuse" that occurred, which she does not wish to make public record is interesting. She details a significant amount of alleged abuse in this declaration.
She does not make vague or general allegations.
We do not want to speculate what the "much more abuse" she references may be but if her goal was to minimize what she writes in her declaration, the ten pages of allegations she filed seems like a counter intuitive way of doing so.
Regarding sealing the information, that is not an order a family court grants easily. The standards set forth in the law to seal court records from the public place a high burden on the person who seeks it.
It is beyond the scope of this article to get into that issue at this time.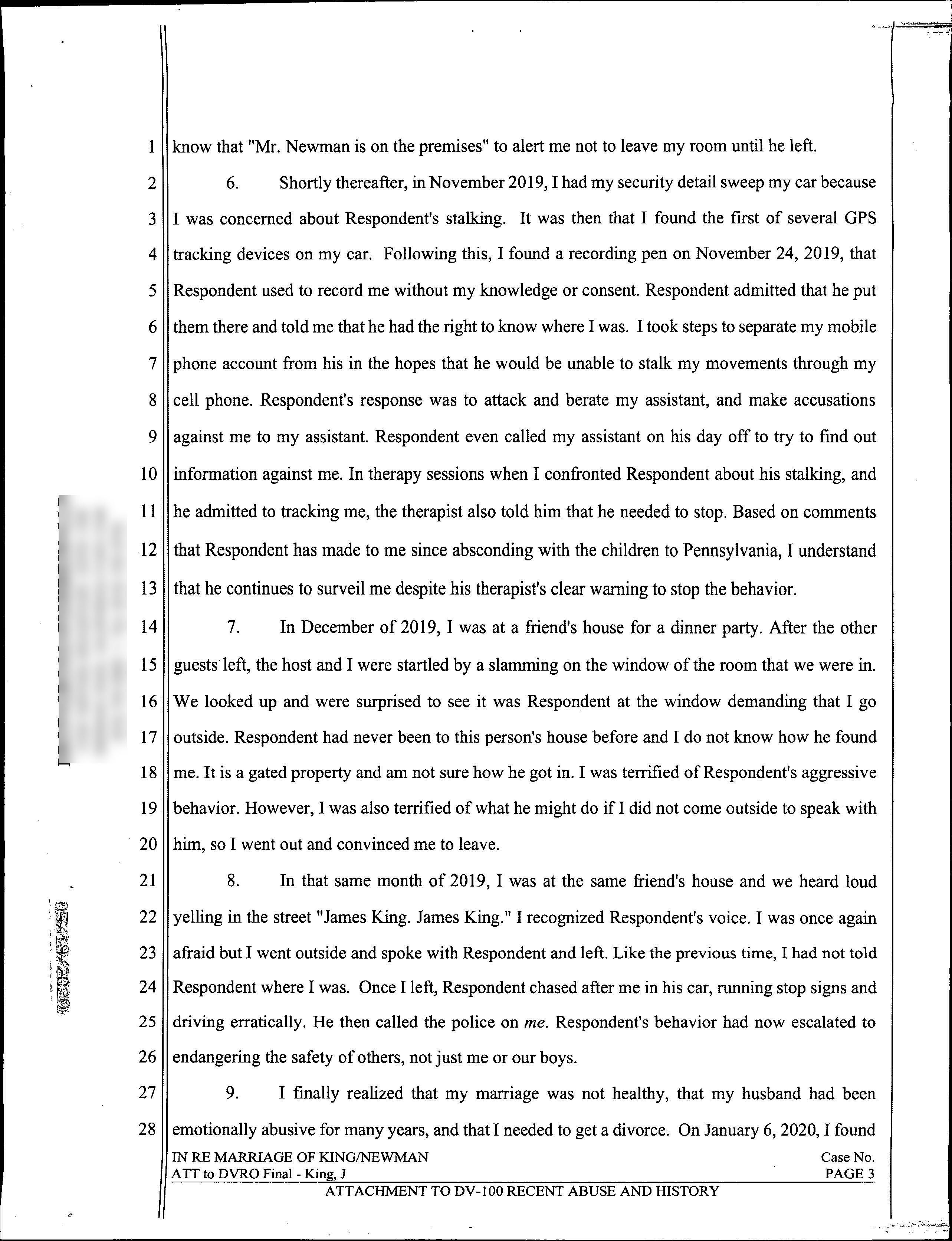 This page gets deeper into the surveillance allegations. Note again she identifies more witnesses who may testify - her security personnel, her assistant, the therapist, and friends. This is critical to family law allegations like this.
We believe Jaime should have these people under subpoena and ready to testify. The issue with the therapist gets tricky due to the therapist-patient privilege.
Jaime has to decide if she is ready to open the door to other discussions in therapy to come out in the court case. Kyle may argue she already did with what she wrote.
Take a look at the paragraph numbered 8 and line 22. Why would he call her "James King?" Or was that a typographical error in the paperwork and it should be "Jaime King?"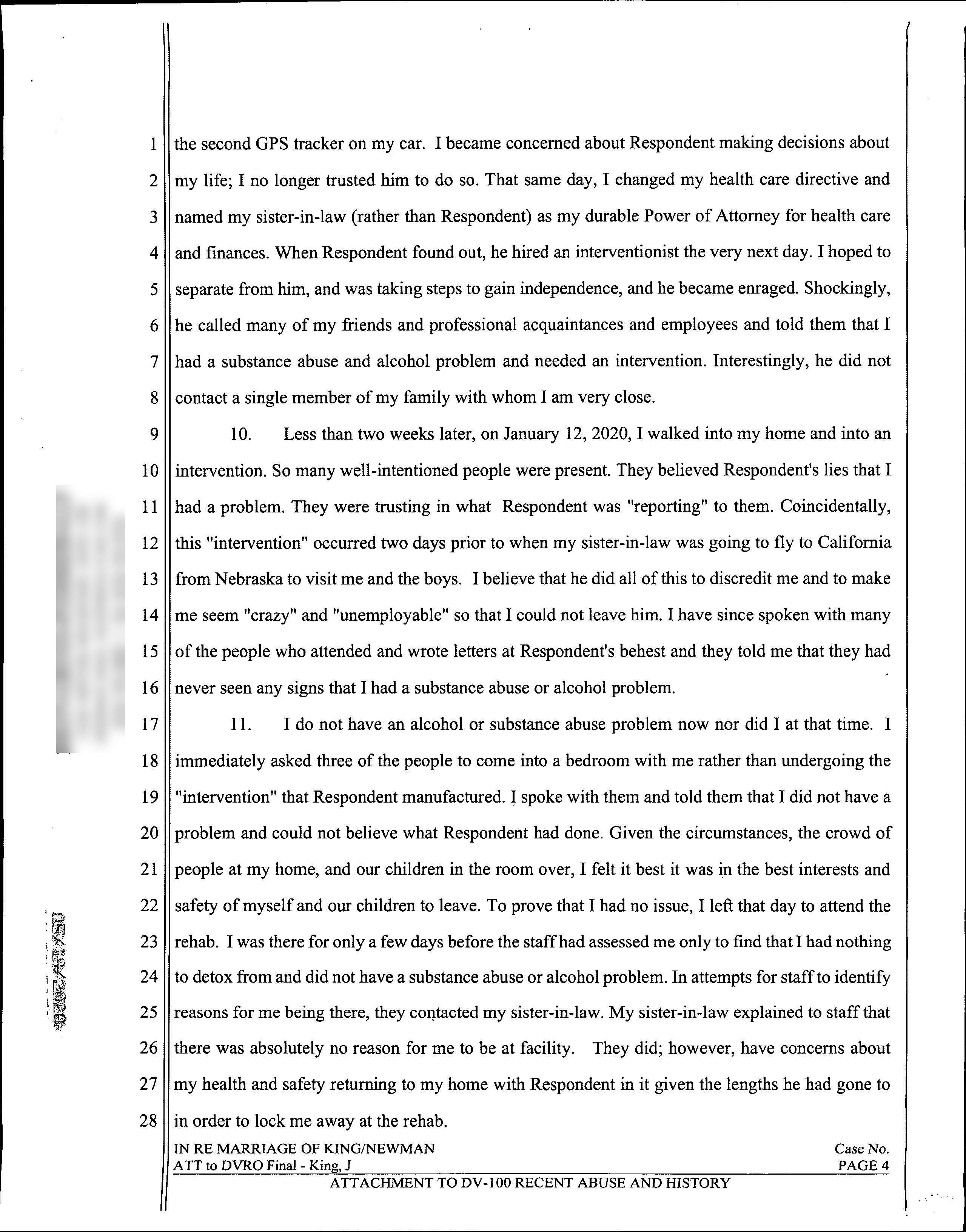 This page gets into her allegations of a fake intervention. She sets forth an unusual sequence of events. The most unusual part of it is that Jaime actually attended "rehab" to "prove that I had no issue."
From our perspective, that is not common. However, we are not judgmental of her actions.
If she is the victim of the serious mental and emotional abuse she claims to be, we can understand why her behavior would not be consistent with what some may fashion as "normal" under the circumstances. Once again, she may have opened up evidence that may support or discredit her claims.
There are statutory privileges and privacy in place regarding rehabilitation records. It is a landmine of legal issues we will not get into here. The question becomes whether she opened the door to a subpoena reaching those records and producing them at a hearing.
She also identifies more people who were present at the intervention. The question is how many of them does she intend to subpoena to testify at a hearing.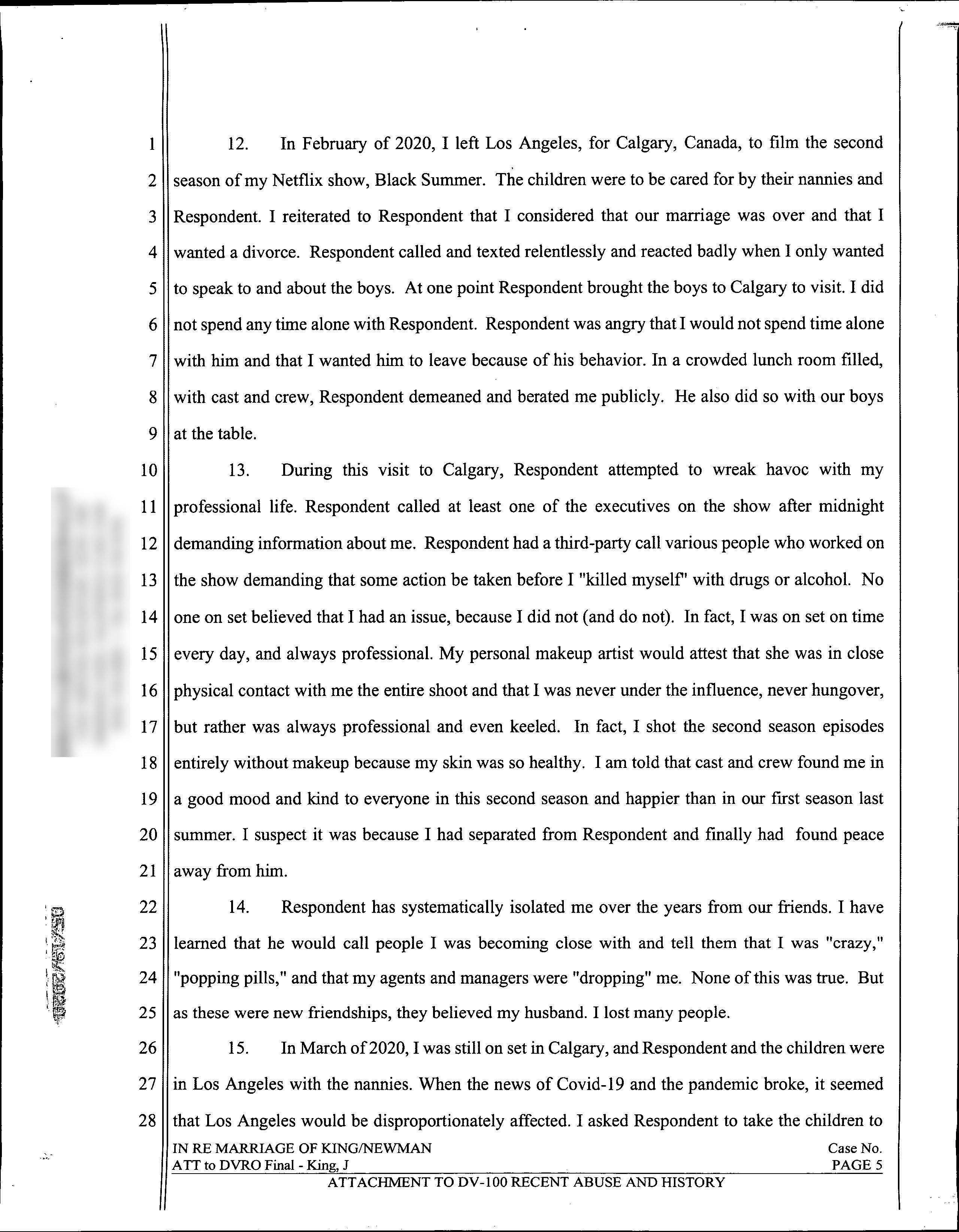 Jaime King makes more allegations against Kyle and identifies more witnesses in what she wrote above. M
ost interesting here is her claims she "lost many people." That also struck us uncommon.
If those people were close to her, would they just take Kyle's word for it? Would they not speak with Jaime first? We realize that depends, in part, on how close the people may have been.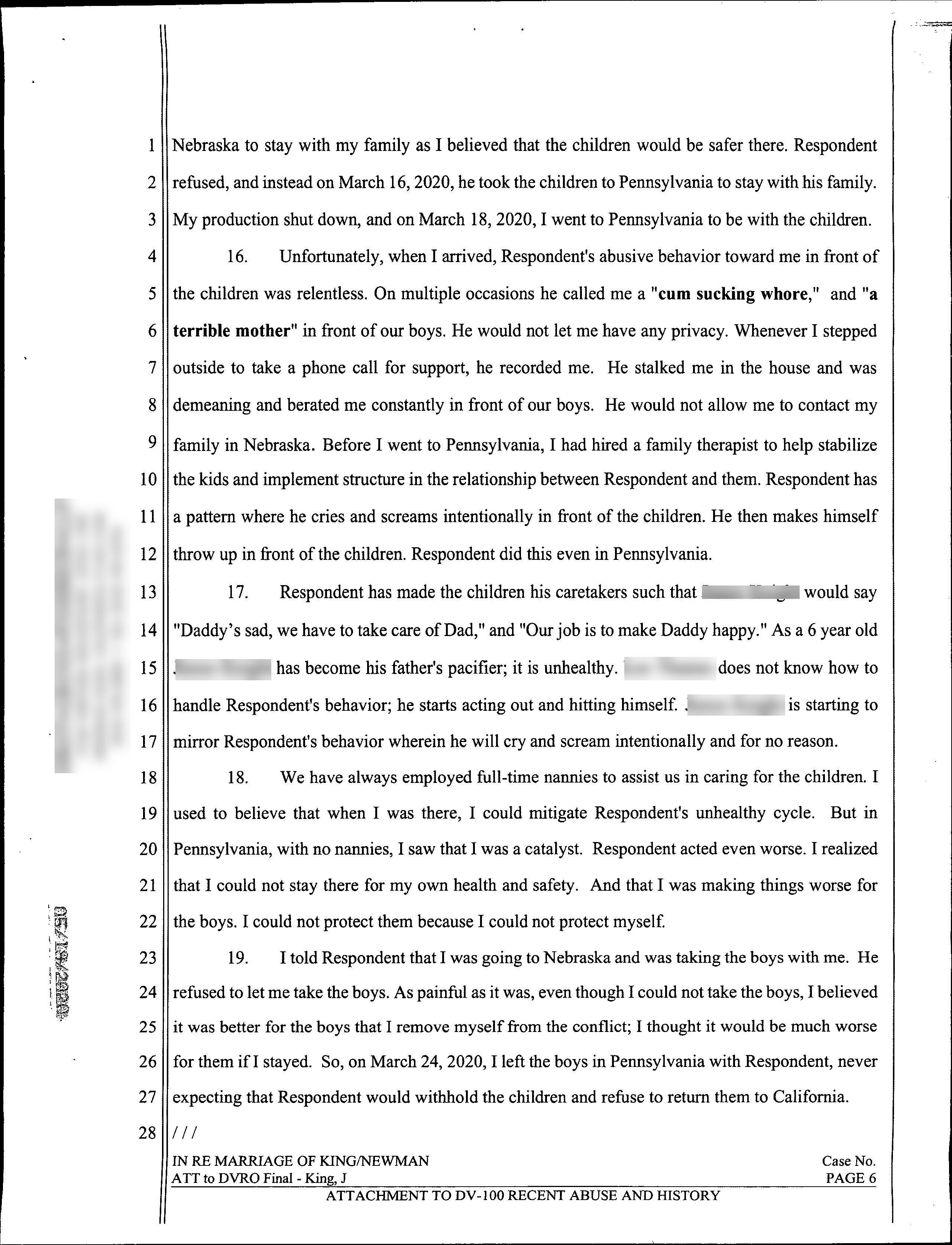 Jaime gets into the issues with the children when Covid-19 became part of all of our daily life.
She alleges she wanted the children to go with him to Nebraska. He instead took the children to Pennsylvania to see her family.
She alleges she went to Pennsylvania, claims he inflicted more emotional and mental abuse on her and she then left the kids with him and left for Nebraska.
She wrote she did not expect he would withhold the children. Given what she alleges to be his pattern of behavior, we are asking what she thought was going to happen.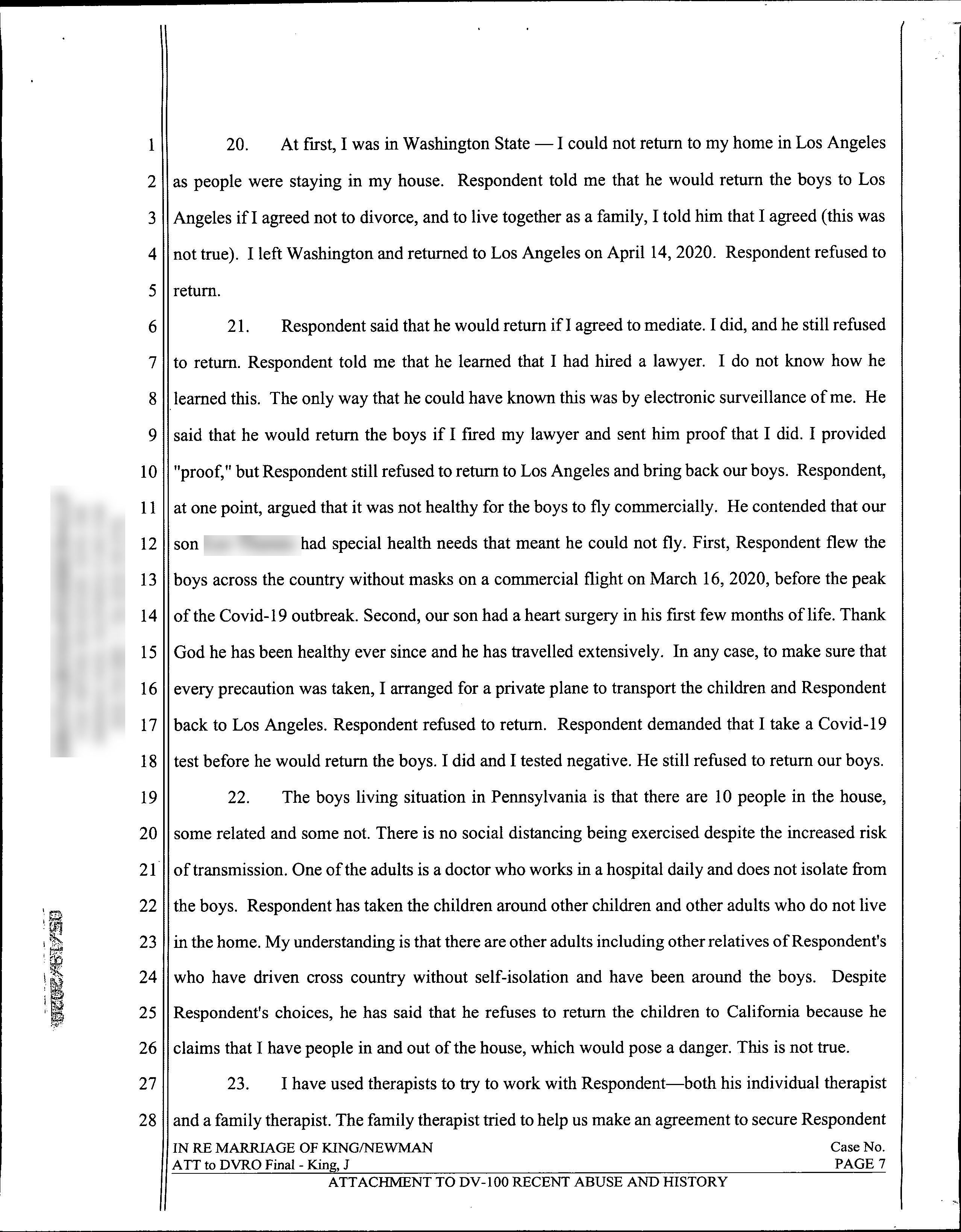 Jaime sets forth the alleged tug-of-war that was taking place between Kyle Newman and her regarding the children.
Jaime alleges Kyle did not engage in proper social distancing with the children.
It will be interesting to see what the basis is for these claims. She does not directly state Kyle told her of these alleged actions. She may claim she heard them from the children, which is likely inadmissible hearsay in court.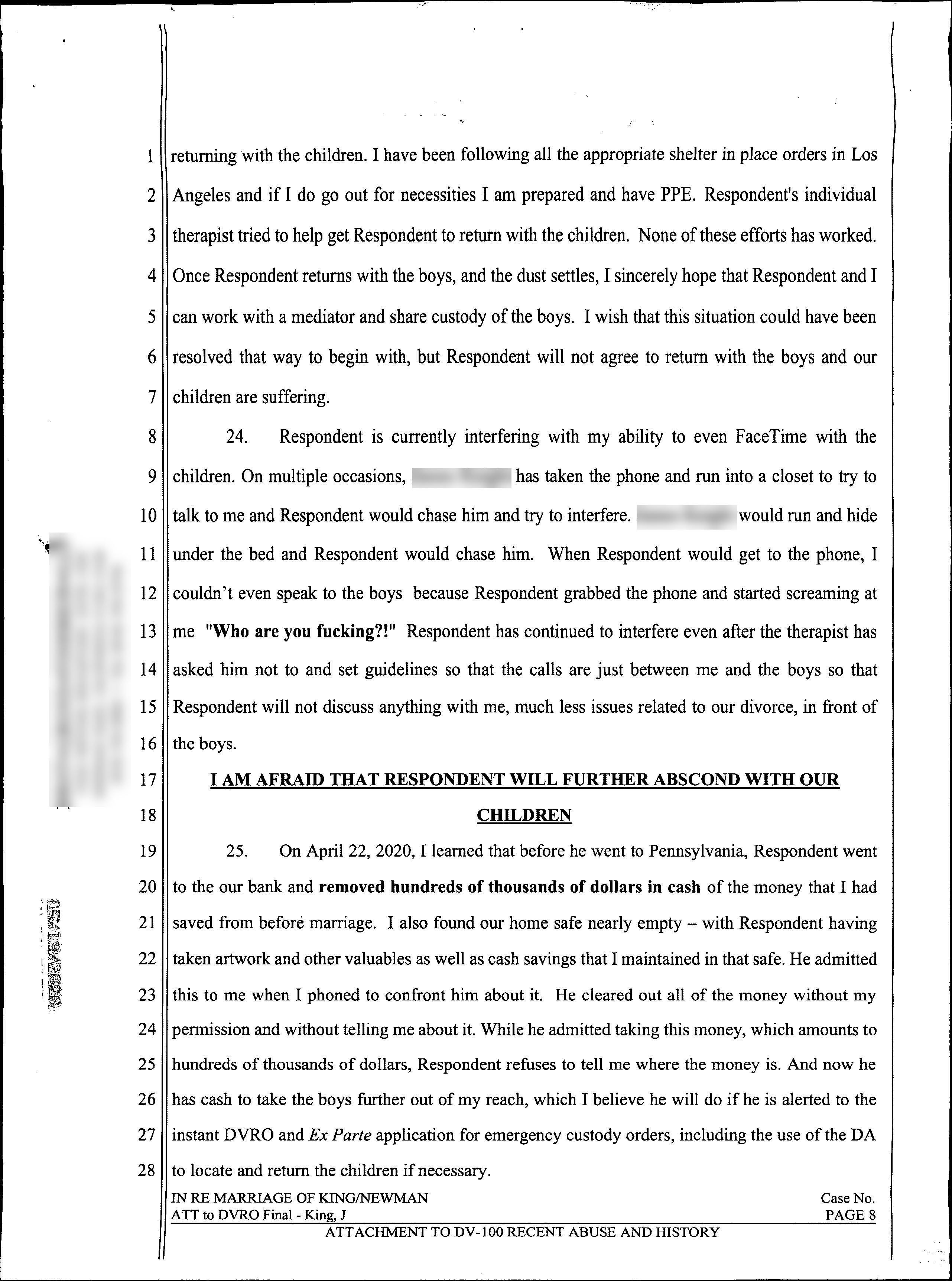 Jaime details more allegations of verbal abuse, and keeping the children from her. She also starts to detail her allegations of Kyle Newman's removal of money and valuables from the safe.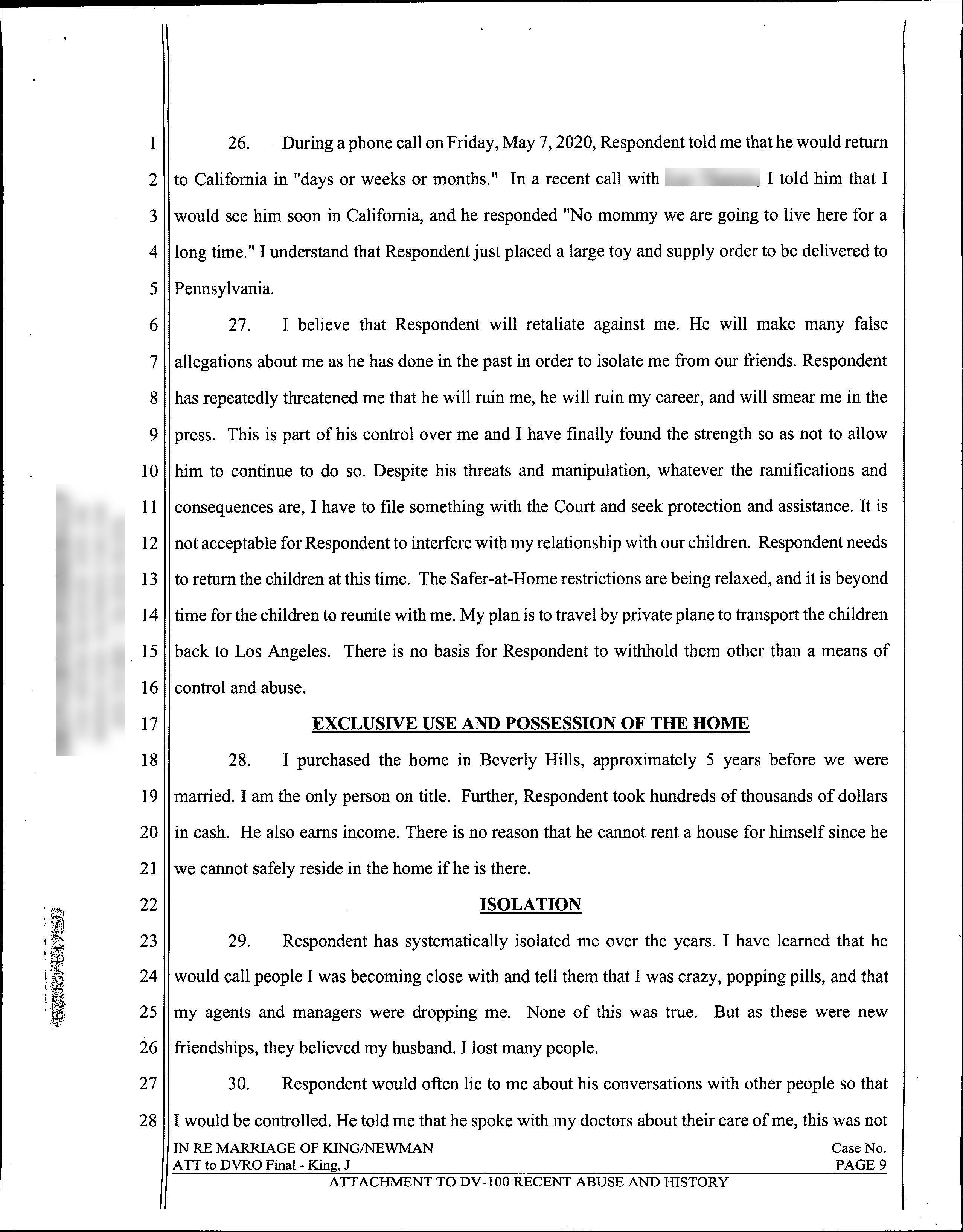 Jaime's allegations here point to Kyle's alleged intention to keep the children in Pennsylvania for the foreseeable future. She provides a short paragraph regarding her home in Beverly Hills and why she should get exclusive use and possession of it.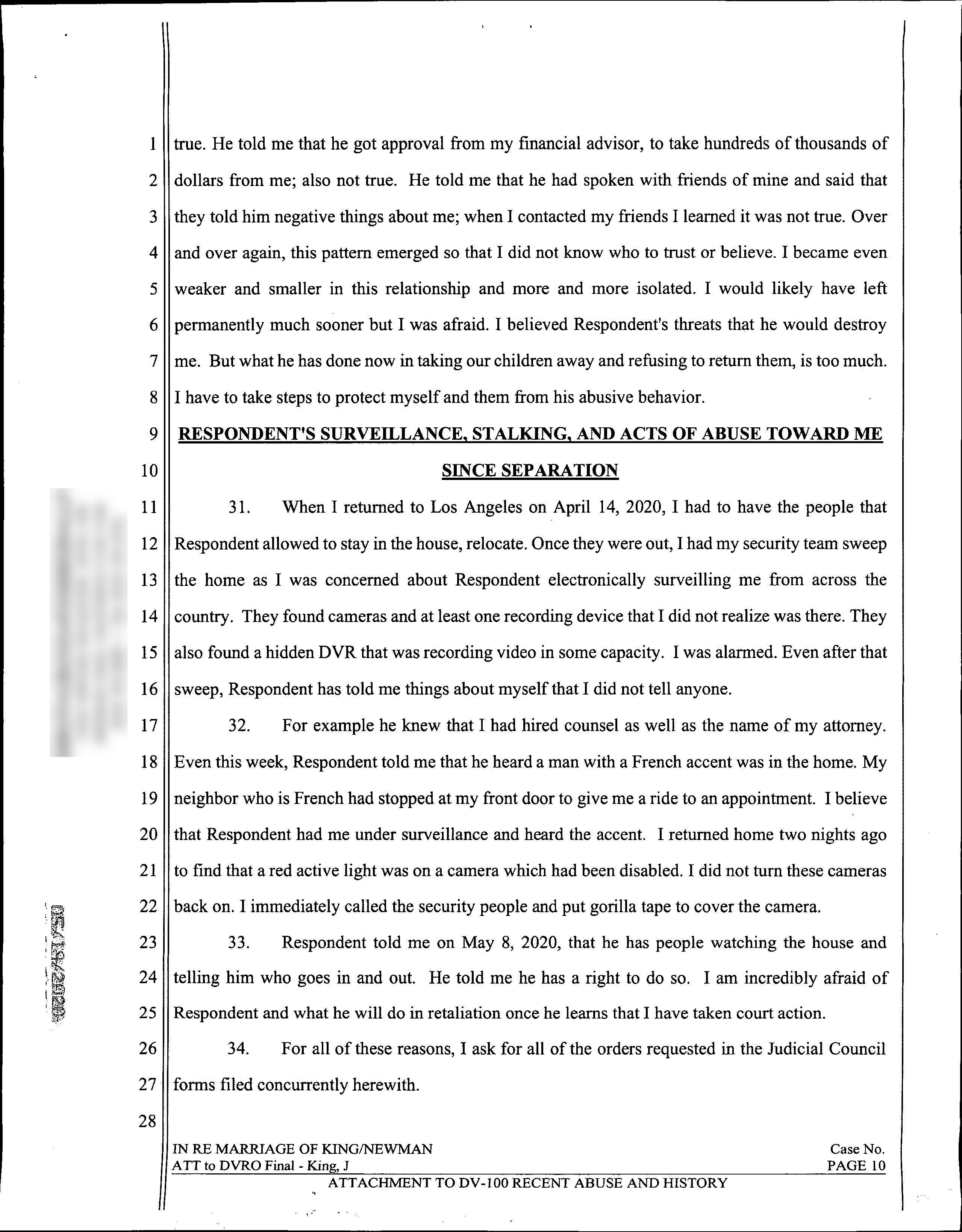 Jaime details some of the impact on her of Kyle's alleged actions. She also writes about the aftermath of what occurred when she returned to Los Angeles.

What is Jaime's custody and visitation requests?
This is what we obtained as Jaime's "request for child custody and visitation orders" as part of her DV-105 form.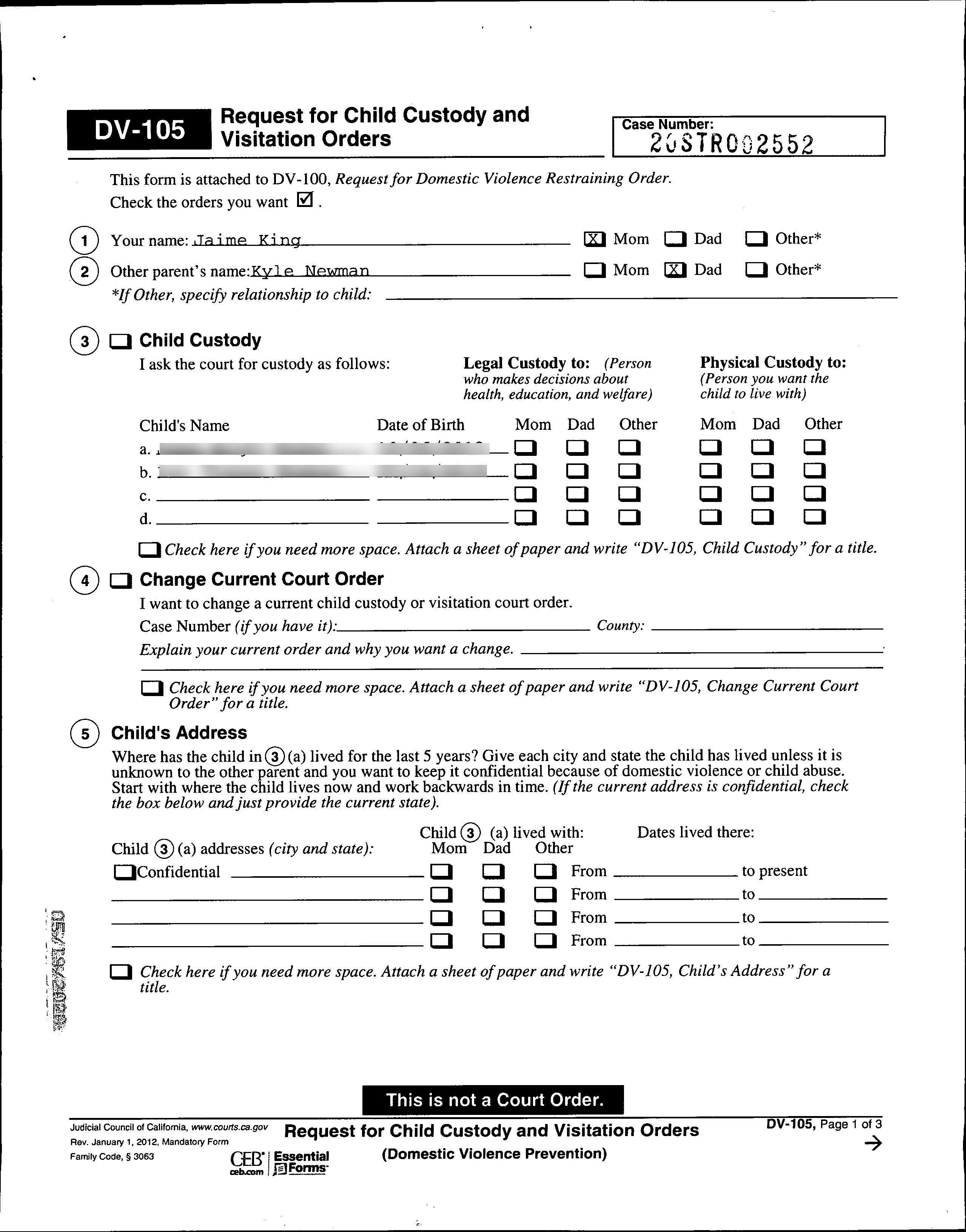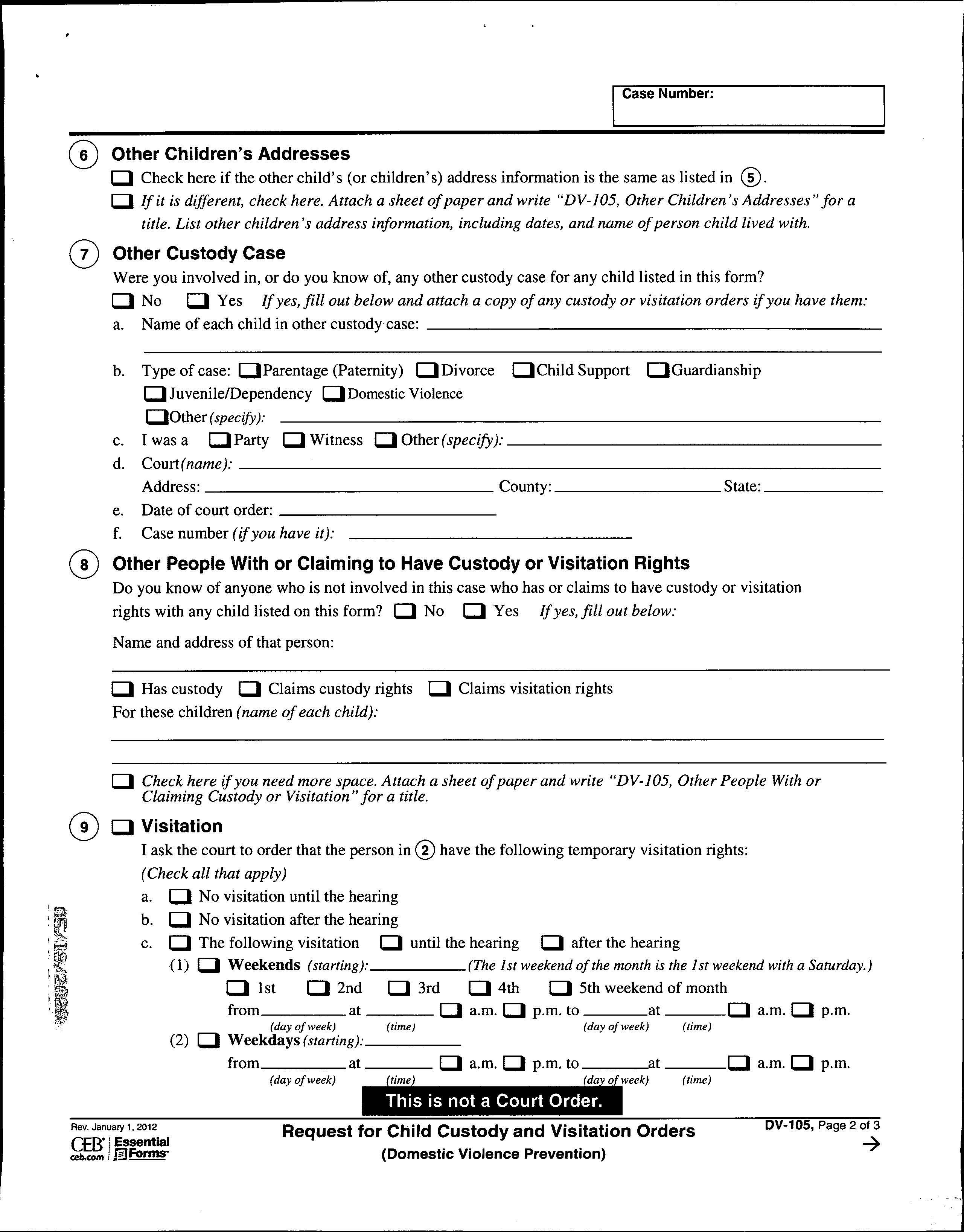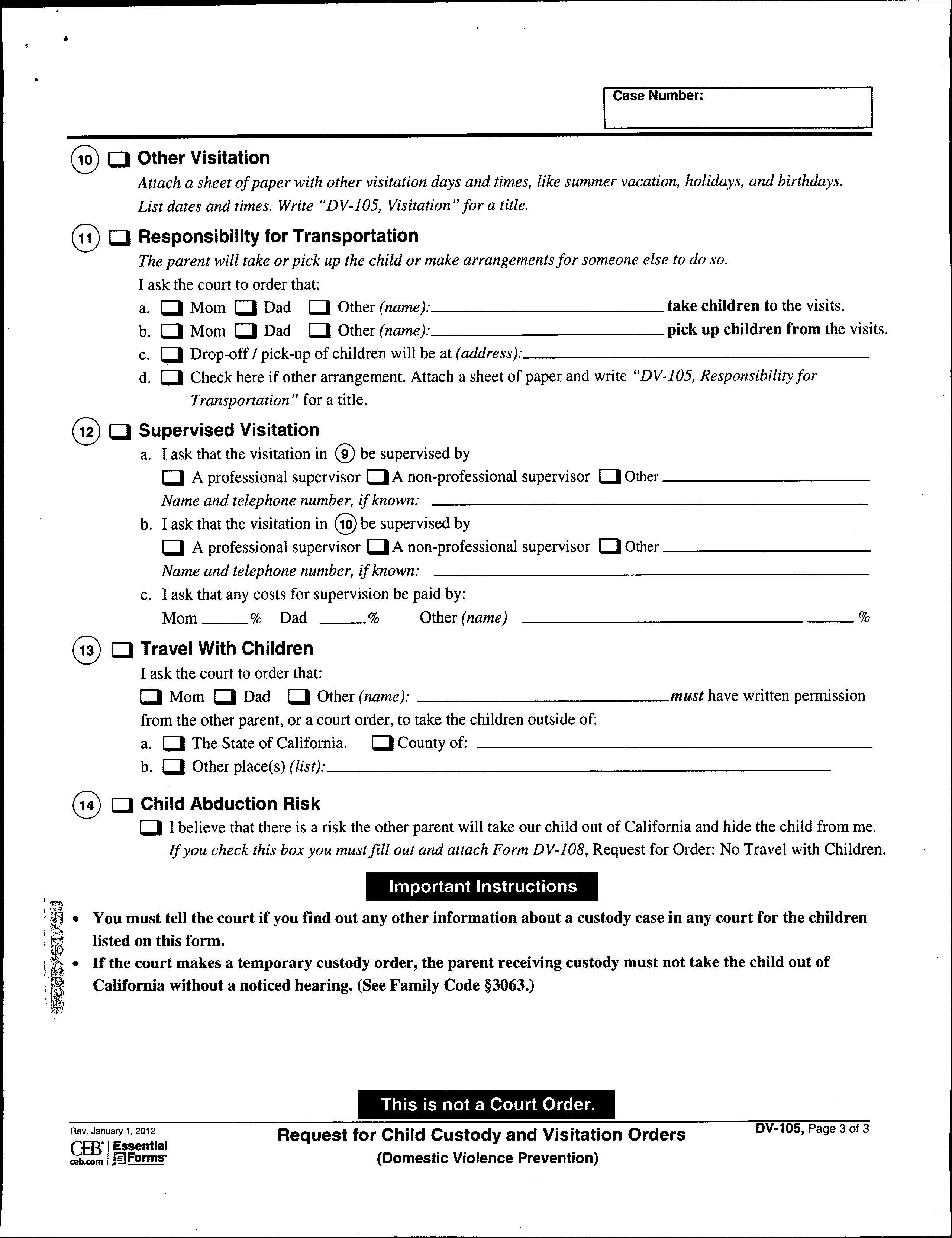 See the problem with it? It is nearly blank. She does not check off anything on legal, custody, physical custody or anything else. Maybe her lawyers filed something else or the document was not properly imaged.
The Court granted Jaime's emergency domestic violence restraining order
The court did grant part of Jaime King's requests. Specifically, the court granted a Temporary Restraining Order that included personal conduct and stay away orders against Kyle.
The court included the children as protected persons but specifically did not check off the box that included them in the "personal conduct" and "stay away" orders.
The court carved out an exception for brief and peaceful contact with Jaime and the children as required for court ordered visitation of the children.
The court also granted her move out order that essentially gives her temporary, exclusive possession of the Beverly Hills home. Jaime can also record any unlawful communications. The court granted certain orders regarding animals they own.
The court denied Jaime's child custody and visitation requests, if she made any such requests (noting the nearly blank form we referenced above).
That is not everything the court ordered and you can see the court's complete orders here by following this link: Jaime King's temporary restraining order. We placed the redactions on the document to avoid identifying the children, Jaime's lawyer and Kyle Newman's date of birth.

When is the return hearing date on Jaime's domestic violence restraining order action?
The court set the return hearing date on Jaime's restraining order for June 8, 2020. It is on this date, absent a continuance, the court will make further orders. The court can deny the restraining order or grant a longer restraining order.
It would not surprise us if Jaime King or Kyle Newman requests a continuance of the hearing. In domestic violence restraining order actions, each party is entitled to one continuance as a matter of statutory right.
The fact the court granted an emergency order until June 8 does not mean the court will grant a longer one on Jaime's behalf.
Emergency restraining orders are based on the paperwork in front of the court. They are not based on an actual evidentiary hearing where both sides get their day in court.
That is why you should not place much stock in an emergency restraining order. It is temporary for a reason.
What about Kyle's response to the domestic violence restraining order?
Kyle to our knowledge did not file a response to Jaime's domestic violence restraining order. However, we understand Kyle filed his own emergency request on Friday, May 22.
Some media outlets reported on Kyle's allegations against Jaime. We prefer to read his paperwork before we post anything here.
It would not surprise us to read Kyle alleges Jaime suffers from a substance abuse issue. This is a safe bet given what Jaime wrote about Kyle's allegations during the marriage.
If Kyle makes such allegations and he claims Jaime's substance abuse is serious, he may also request random drug and/or alcohol testing, and even monitored visitation for Jaime.
We are however speculating, partly based on our extensive experience in handling complex and high conflict divorce and child custody cases. We will wait and see what Kyle actually alleges and then update this article at that time.
Check back here regarding Jaime King's and Kyle Newman's high conflict divorce
Bookmark this page on your browser and check back often. We will regularly update this article with new developments. If you like what you read and you believe this article to be helpful and informative, please share this article with others.
Was this article helpful to you?
Thank you, we appreciate your feedback!