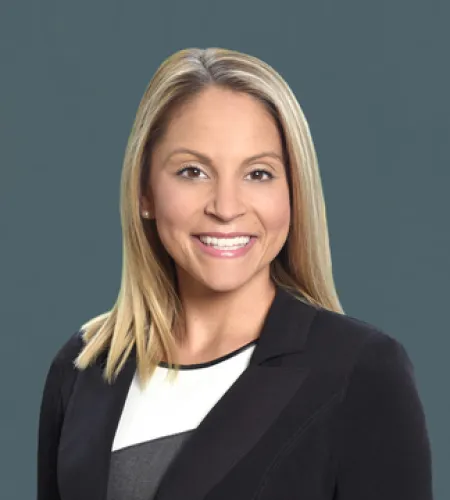 Nicole
Nuzzo
Nicole Nuzzo
Farzad & Ochoa Family Law Attorneys, LLP
Partner
611 Anton Blvd., Suite 840,
Costa Mesa, CA 92626
Nicole Nuzzo is a partner at Farzad & Ochoa Family Law Attorneys, LLP.

Nicole has been designated by the State Bar of California Board of Legal Specialization as a Certified Family Law Specialist.

She has also been named as one of the top ten family law attorneys in California for client satisfaction by the American Institute of Legal Counsel and named a rising star in 2021 by Super Lawyers, Thomson Reuters.

Nicole works in our Costa Mesa office where she dedicates her practice to negotiating and litigating complex divorce and family law matters. She also drafts, negotiates and reviews Premarital and Post-Nuptial Agreements.

Nicole is a graduate of the National Institute of Trial Advocacy (NITA) Family Law Institute, a worldwide leader in advocacy skills training for litigation attorneys.

Nicole is a member of the Executive Committee of the Orange County Bar Association, Family Law Section. She has presented at seminars for the OCBA. Since 2016, she has been appointed by the Orange County Bar Association (OCBA) President as one of 15 members of the OCBA Professionalism and Ethics Committee.

Nicole is committed to supporting and encouraging bar members to engage in the professional and ethical practice of law for the benefit of the community at large.

Nicole's Publications include:

December 2020: Terminating the Attorney-Client Relationship: Mum's the Word, Orange County Lawyer's Magazine November 2019
The Mobile Lawyer Effect: How Much are Lateral Hires Costing Your Firm?, Orange County Lawyer's Magazine

July 2019: To Purge or Not to Purge, Retaining Client Files in the Digital Age, Computer & Internet Lawyer, Volume 36, Number 7

November 2018: To Purge or Not to Purge: Retaining Client Files in the Digital Age, Orange County Lawyer's Magazine

August 2017: Breaking Up is Hard to Do: Promoting Civility and Professionalism Among Divorce Attorneys, Orange County Lawyer's Magazine