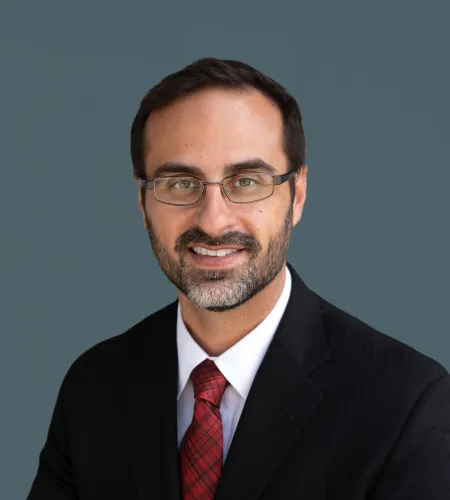 Luis
McKissick
Luis McKissick
Farzad & Ochoa Family Law Attorneys, LLP
Associate
611 Anton Blvd., Suite 840,
Costa Mesa, CA 92626
Luis McKissick is an associate at Farzad & Ochoa Family Law Attorneys, LLP and works in the Orange County office.
Mr. McKissick became licensed to practice law in the State of California in 2007. He has devoted his entire legal career exclusively to the area of Family Law. Mr. McKissick is a Certified Family Law Specialist (CFLS), as certified by the State Bar of California Board of Legal Specialization.
Mr. McKissick graduated from University of California, San Diego, with a B.A. in Political Science and a minor in Law and Society. He earned his Juris Doctorate from Western State University, School of Law.

Mr. McKissick has handled a wide variety of family law cases and issues throughout his career, including complex litigation. His experience includes but is not limited to:
Evaluating complex business structures to determine the character of the assets as community property, separate property, or some combination of each;
Cash flow analysis for purposes of spousal and child support, as well as a determination of attorney fees;
Tracing of assets, including commingled assets, dating back several decades;
Business valuations;
Analysis of premarital agreements;
Child custody evaluations and modifications; and
Contempt proceedings for failure to follow court orders.
Mr. McKissick's extensive experience with various types of litigation gives him the ability to efficiently advise his clients of the proper course to take in each of his cases.
This experience is heightened by Mr. McKissick's experience with the Court of Appeal where he has both appealed errors by the trial court and defended against appeals. His success on appeal includes published opinions in pivotal cases such as In re Marriage of Margulis where the Court of Appeal agreed with Mr. McKissick that the trial court erred by not placing the burden on the spouse to explain what he did with marital assets in his control that disappeared before the trial in the matter.
Mr. McKissick believes that being reasonable and professional is the key to finding your way through these cases - both for the parties and the attorneys. By being both reasonable and professional, the persons involved can increase their chances for settlement, which is always a preferred method for resolving Family Law cases. But if a case or an issue needs to go to trial, the side that has exemplified these attributes throughout the case stands a far better chance before the Judge.
Mr. McKissick is married with three children and values family and community as top priorities.

I don't know where to begin to express my sincere gratitude for having such a professional team of people helping me get through one of the most difficult life changing events. Robert, to Alaa Alomar to Luis McKissick and finally Amanda Naples to get me over the finish line. I learned so much about myself from the counsel of these professional attorneys. What's more is that they knew I had a very challenging X to deal with. Whenever my anxiety get get the best of me, and after talking with Alaa and even the attorney before her, I always felt comforted knowing that they were looking out for my best interest. I would highly recommend this law firm to anyone who needs a good family law attorney!
- MG