How to Start a Divorce in 4 Easy Steps

We will explain how to start a divorce in California so you are ready for what comes next

Every divorce in California starts the same way
It all starts with a petition for dissolution of marriage. That document (along with others), when filed with the court, gets you a case number.
You then have a person qualified by law (it cannot be you) serve the petition, summons and other forms on your spouse.
But how do you even get to the point of drafting the petition? Who drafts it? And what goes into a petition?
In this article, we are going to answer for you the question of how to start a divorce.
Starting a divorce means you are certain the marriage is over
At the risk of stating the obvious, you really should not start a divorce unless you are certain the marriage is over.
Since we are experienced divorce attorneys, we have seen situations where a spouse starts the divorce process but then realizes they were not emotionally ready to follow through with it. That causes more stress and money.
So make sure you want to start a divorce before you do it.
4 Steps to Start a Divorce

Interview lawyers before you start the divorce

Can you represent yourself? Yes. Should you? No way.


Interview lawyers before you start the divorce process. At the interview, a divorce lawyer can answer your questions. That includes questions about dividing assets, child custody, child support, spousal support, and much more.


The divorce lawyer can also walk you through the divorce process from start to finish. If your divorce will be amicable, that process is different than a divorce with contested issues.


Experienced lawyers like those at our California family law firm do not just answer questions but we provide a roadmap for potential clients about how we believe their divorce should proceed. We discuss strategy, tactics and cost.


Once you decide on a divorce lawyer, assuming you chose wisely, the entire process will become smoother.
You will need to gather information and documents at the start of the divorce process

Our lawyers give our clients a list of information and documents we need from them in an easy-to-understand format. This information and documentation helps us better understand a client's list of assets, debts, income, expenses, child custody issues and much more.


Cooperating with your divorce lawyer to gather information is an important part of the starting point. Some people believe there should be an immediate filing of the divorce petition to start the divorce. We disagree that is the right approach in every case.


Instead, we customize our approach based on the case's facts. If there is an urgent need for custody and support orders or there is a potential risk to assets, then it makes sense to start the divorce with an immediate filing and service of the petition.


But if those issues are not urgent and the case requires diligence to determine the right strategy, a filing too quickly can cause you to start a divorce before you are ready and put you at a disadvantage.


Preparing the divorce petition requires care Your lawyer's office should prepare the divorce petition.


We provide you with a video later in this guide that gives you an overview of what the divorce petition (FL-100) includes so you better understand what the boxes and sections in that petition actually mean.

Filing the divorce summons and petition formally starts the court process.

When it is time to file the divorce, your attorney will present you with several documents for review.


At a minimum, that will include a divorce summons (FL-110 form) and divorce petition (FL-100 form). In some cases, the spouse will include detailed financial disclosures that include disclosures of assets, debts, income and expenses. There are different forms for these documents.


If the spouses have children, the spouse filing the petition also includes a UCCJEA form (FL-105). Most counties in California have local forms you must also file. Once the paperwork is filed, that filing formally starts the divorce in family court. Then comes service.
Serving the divorce summons, petition and other forms requires your spouse to respond if they want to participate.

There are different ways to serve the divorce packet. Your divorce lawyer should hire a reputable company who handles such tasks. The proper process server will serve the paperwork and file proof of that service with the court.


This starts the divorce for your spouse. Until they are properly served with the initial filed documents, they do not have an obligation to respond to the petition. Most of the time, your spouse has 30 days from the service date to file and serve their response and related paperwork.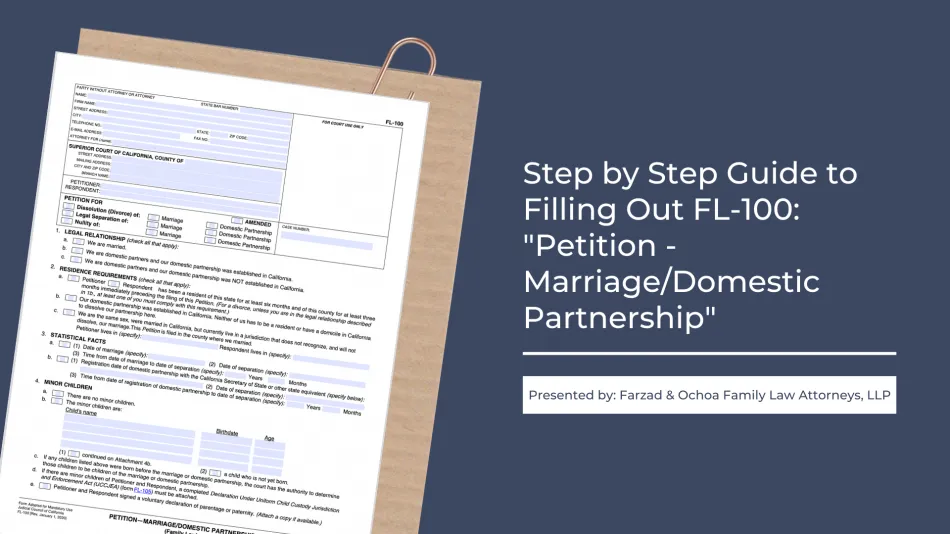 What happens after this beginning process?

We have some great reading for you that explains the divorce process after it starts. Please read the articles linked below.

Our family law firm has offices in Orange County, Los Angeles and San Diego. Please call us for a consultation if you need help with a divorce you intend to file or which has already been filed.
Additional reading on the divorce process

Strategy sessions are designed for those who are serious about their family law case, want to make informed and intelligent choices, and seek result-focused representation.